How is your team executing against strategy? How does the content you create align with your objectives? The tactical execution of strategy is essential to marketing success—yet it's challenging to achieve. 
Kapost's Canvas App creates layered views via charts and plans to visualize alignment with business objectives, ongoing progress, and coverage of content across business units, channels, or any other aspect that's important to you.  
Bonus: Kapost also handles the actual content execution. Accordingly, content is ready and waiting to be worked on in Studio as soon as plans are created in Canvas. Canvas will automatically update in line with any and all changes. Because these updates happen in real time, you and your team can stay organized to communicate effectively with stakeholders. 
How to Use Canvas
Plans
Canvas enables you to create different plans.
For each plan, you can create many views to show a subset of details.
Plans group these views together to communicate a set of goals or to demonstrate how you are executing a strategy, like your quarterly marketing plan.
You can limit what types of users can create and edit plans. To find this setting, select Canvas from the top menu bar and then choose Settings in the upper, right-hand corner. Check the box to allow editors to create and edit plans and matrix views. Uncheck the box to limit these functions to admins.
To edit access levels to plans in Canvas, navigate to Canvas and then either choose an existing plan or create a new plan. You can use manage access within a plan to add or remove users or groups of users with access to the plan. If you click into a chart within the plan you have access to, click on the Manage Access icon to view who else has access to it, but you can't change access levels in this view.
Note: Admins and Editors are the only members with access to the Canvas tab. Please refer to this help article for more information about member permissions.
To create or edit a new plan within Canvas, navigate to Canvas in the top navigation bar.
Click the + icon to create a new plan. Enter a title or click on an existing plan and select Edit.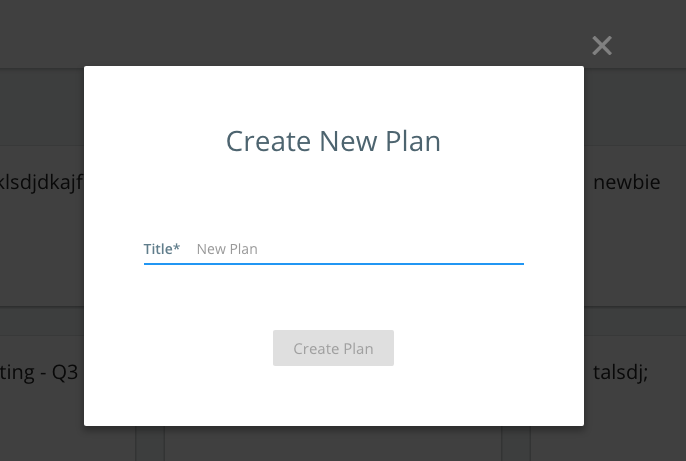 Editing Options:
Click the Title box to edit the title; then click Save.
Click the trashcan icon to delete the plan. Confirm by clicking Delete. Note: Deleting a plan will not delete its corresponding initiatives or content assets. Instead, it will delete any charts associated with the plan
Click the attachments tab and select the Upload icon to add file attachments to plans.
Charts
Charts allow you to visualize information and better understand a plan. You have two options of types of charts: Matrix or Timeline Charts.  
With Matrix Charts, your team can create charts to represent the essential aspects of your content operation. Whether you structure marketing plans around objectives, themes, personas, business units, product lines, key dates, or something else entirely, Canvas uses pre-defined custom data to support the execution process.  
To set up a Matrix Chart:
In Canvas, create a plan or click on an existing plan.
Click the + icon to create a new matrix. You can create a new matrix from one of the existing templates or create a custom matrix,
Click to view an example of each template. Select Create Chart on your desired template. 
If you're creating a custom matrix, click the link and then choose whether you want your chart to populate with initiative or content data.
After selecting your chart, follow the steps below to edit the chart configuration. Note: The first time you create a chart you'll be taken through a guided tour to learn how to configure it to your liking.
To edit a Matrix Chart:
Click Edit in the upper right corner to enter edit mode,

You can edit the title by clicking into the title box.  

Use the Sidebar icon to toggle the editing menu.

Select available options for the columns and rows you'd like to see in the matrix. Note: Only multi-select and drop-down custom fields are available. You can limit the field values shown in the matrix by selecting/deselecting them.

Use the Switch icon to reverse the columns and rows.

Select the initiatives you'd like to show data for in your matrix by clicking 'Manage' on the sidebar or 'Manage Initiatives' on the top selection bar. Anything you want to see in a matrix view must be associated with an initiative. Initiatives can be filtered by keyword and sorted alphabetically or by the last update.

Check or uncheck the box to Enable Content Status. This view will display how many assets are complete for each initiative or the progress stage of content in your chart.

To delete a matrix, select Delete from the More drop-down menu. Deleting a matrix will not delete the initiatives or content assets existing in the matrix.

Click the back arrow to go back to view mode.

Click the back arrow again to go to your plan landing page.
Note: A guided tour will pop up the first time you enter Canvas. You can always choose to restart the guided tour by selecting Start Tour from the More drop-down menu.
You can create content or initiatives when actively editing the matrix. These newly created assets will be available within Studio as soon as you click save.
Click on a cell in the matrix
Complete the information in the module. This information includes title, type, initiatives, and values for the columns and rows selected in the matrix. Users must complete any other information, including additional custom fields, workflow, and file uploads, within Studio on the individual asset's page
Click Create. Content or initiatives will not be created in Studio until the chart is saved. They will be noted with a dotted outline until the chart saves, and the content or initiative is created.  
If you'd like to update the metadata associated with column and row values on content or initiatives while editing a matrix, you can do so by dragging and dropping items into different cells or by clicking on an item and making updates within the details modal.  
Note that content or initiatives without a metadata tag will show in the last row or column representing a missing tag.  
You can move content or initiatives to the appropriate cells to provide a tag.  
If an asset or initiative needs to be tagged with multiple values, you can click on the asset and make adjustments within the modal window. Any data you adjust will only change across all areas of Kapost when you click the save button. Data changes are noted with an asterisk until save is selected and the changes are made through Kapost.  
Note: Users cannot change the content type, initiative type, or owner within a matrix.