Use the Org Members page to manage all your Kapost child instance members in one place.
Access the Members page by clicking the Members icon in your navigation bar at the top of your instance. Here, you'll be able to view and manage your team members, as well as view and update their role, the instances they work in, and see the date of their latest activity in Kapost.
Finding and Managing Membership
Use the search bar to find the members you're looking for. Then, you can use the plus icon to manage their membership.
You can also manage one or more memberships by selecting their row's box and clicking "Manage memberships" from the More drop-down menu.
Making someone a member of the organization will give them access to any instance within the Org. If this what you want, you can give them access to specific instances and adjust their roles accordingly.

You can filter your member list by member name, role, or activity in ascending or descending order:
Click the green Add Members button to add a new member to the Org. You can also customize this invite if you'd like.
Learn more about adding members to an Org here.
Pending and Suspended Members
View the individuals who have pending invites in your child instances, that is, they have yet to accept their invitation to join. Rather than a column for last activity date, you'll see a column for the date they were invited to join an instance. If needed, re-send the invite to pending members.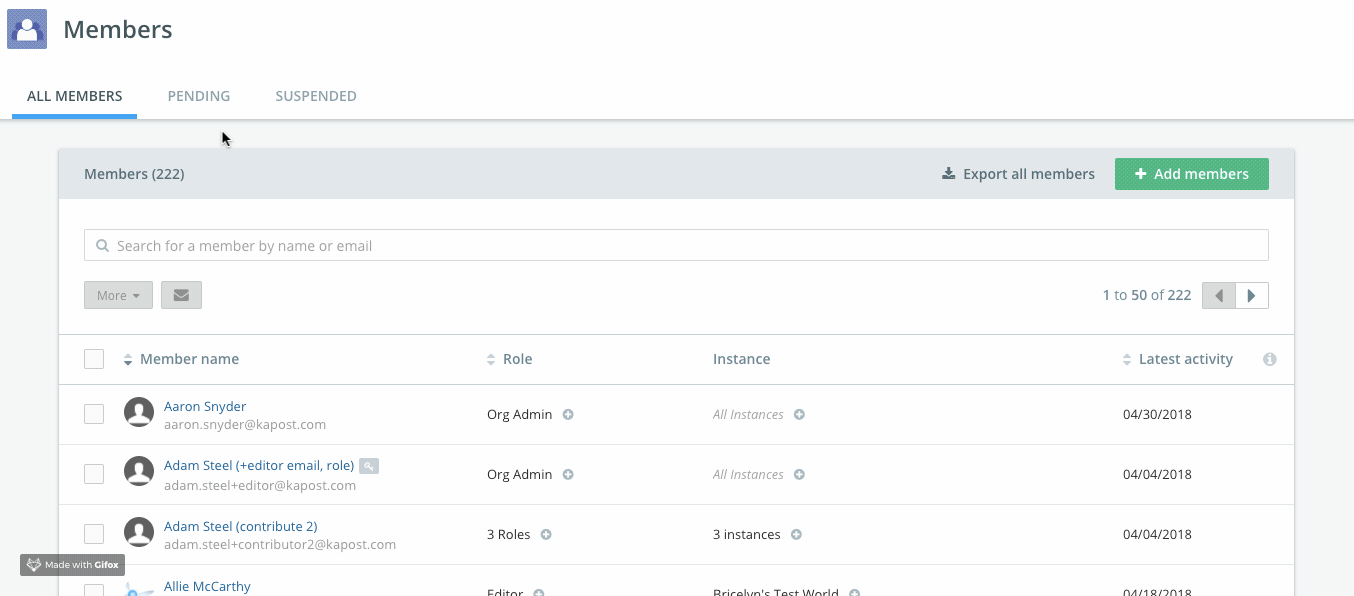 Similarly, view suspended members and, if desired, reactivate them in an instance. Rather than a column for last activity date, you'll see a column for the date they were suspended. 
More information about removing or suspending members is available (help article).
Exporting Members
From the Org Members page, you can export all members into a CSV file. To do this, click "Export all members" in the top bar of the All Members view. A CSV of your Org members will be delivered to your inbox...
...where you can then download the file containing useful data on the members in your Org instance, including their name, email address, latest activity date, which child instances they're members of, and if they're suspended or pending.
 Note: last activity will not display for pending or suspended members.